New Publications
Themistoklis Aravossitas (with co-editor Peter Pericles Trifonas) Handbook of Research and Practice in Heritage Language Education (Springer International Handbooks of Education, 2018)
Philipp Angermeyer (with co-editors Cecelia Cultler and Zvjezdana Vrzic) Language Contact in Africa and the African Diaspora in the Americas(John Benjamins, 2017)
Christina Kraenzle (with co-editor Maria Mayr): The Changing Place of Europe in Global Memory Cultures: Usable Pasts and Futures (Palgrave Macmillan, 2017)
Diana Spokiene (with co-author John L. Plews): Translation and Translating in German Studies (Wilfred Laurier University Press, 2016)
Maria João Dodman: AndarIlha.  Viagens de um hífen [Wanderer.  Voyages of a Hyphen] (Publicor , 2016)
Gabriela Alboiu (with co-author Virginia Hill UNB): Verb Movement and Clause Structure in Old Romanian (Oxford Studies in Diachronic and Historical Linguistics, Oxford UP, 2016)
Philipp Angermeyer: Speak English or What?: Codeswitching and Interpreter Use in New York City Courts (Oxford Studies in Language and Law, Oxford UP: 2015)
Susan Ehrlich (with co-editors Diana Eades and Janet Ainsworth):  Discursive Constructions of Consent in the Legal Process (Oxford Studies in Language and Law, Oxford UP: 2016)
James Walker: Canadian English:  A Sociolinguistic Perspective (Routledge: 2015)
James Walker published two book chapters, one on variation analysis and, together with Michol Hoffman, another on sociolinguistic studies of immigrant communities.
Walker, J. "Variation analysis." Research Methods in Linguistics. Ed. R. Podesva & D. Sharma. Cambridge: Cambridge University Press, 2014. 440-59.
Walker, J. and M. Hoffman. "Fieldwork in immigrant communities." Data Collection in Sociolinguistics: Methods and Applications. Eds. C. Mallinson, B. Childs & G. Van Herk. New York and London: Routledge, 2013. 80-3.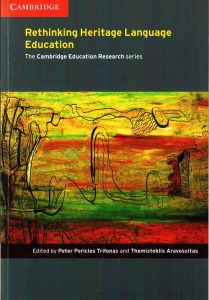 Congratulations to Themis Aravossitas who just published a co-edited volume with Cambridge University Press (together with Peter Pericles Trifonas). Rethinking Heritage Language Education brings together emerging and established researchers in the field of Heritage Language Education to negotiate concepts and practices, and investigate the correlation between culture, language and identity from a pedagogic and socio-political point of view.The book addresses the multilingual context of education in different national and international settings, including issues of main-streaming plurilingualism, identifying ideologies of pedagogical practice, mapping cultural and linguistic assets and empowering learners, teachers and communities. Rethinking Heritage Language Education re-examines the dimensions of traditional interpretations of language education in relation to the principles of equity, social justice, and linguistic rights in the new millennium.
Philipp Angermeyer published a journal article on institutional policies and multilingual practices in small claims courts in New York City.
Angermeyer, P. "Monolingual ideologies and multilingual practices in small claims court: The case of Spanish-speaking arbitrators." International Journal of Multilingualism 11 (4): 430-448; Special issue on Multilingual discursive practices and processes of social change in globalizing institutional spaces, edited by Eva Codó and Miguel Pérez-Milans.
In TESL Canada Journal, Linda Steinman published an article examining the function of transitions in ESL instruction.
Steinman, L. "The Role of Transitions in ESL Instruction." TESL Canada 30.2 (2013): 46-54.
In 2014, Geoff Lawrence continued his work in the area of e-learning and online learning environments and published two articles:
In 2013, Ruth King published a volume on Acadian French. In her book Acadian French in Time and Space, published with Duke University Press, she examines a set of closely related minority language varieties spoken by a subset of French Canadians.It is the first study on this topic published in English and, therefore, it offers an important contribution by making recent scholarship on these dialects accessible to Anglophone audiences.
Walid El Khachab published an article on the work of Tunisian film director Nacer Khemir.
El Khachab, W. « Cinema et poétique de (l'auto) réflexion. Des figures paléo-cinématographiques chez Nacer Khemir ». CinemAction. Cinema et Poesie. Paris. Automne 2014. pp16-25.
In 2014, Roberta Sinyor published a book chapter on Carmen Covito's work.
Sinyor, R. «Carmen Covito e il rapporto tra madre e figlia: il cordone ombelicale non reciso ne La Bruttina stagionat», in Laurent Lombard (ed.), Le madri Figure e figurazioni nella lettertura italiana contemporanea. Avellino: Edizioni Sinestesie, 2014. 331-343.
Shanna Lino has published a special issue of the Revista Canadiense de Estudios Hispánicoson the topic of "Tráfico y producción cultural: trazas de una globalización fragmentada." ("Trafficking and Cultural Production: Traces of a Fragmented Globalization." 38.1, Fall 2013). This co-edited volume (with Luis Molina Lora, Ph.D. University of Ottawa), drew together eleven critical essays from scholars in Canada, the US, and Latin America and is the first of its kind to theorize the notion of trafficking in the Spanish-speaking world, including that of people, narcotics, literature, cultural heritage, and history.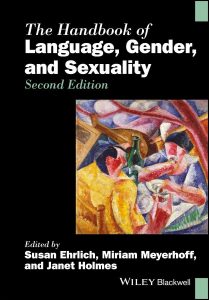 Congratulations to Susan Ehrlich and her co-editors Miriam Meyerhoff and Janet Holmes whose Handbook of Language, Gender, and Sexuality just appeared in a substantially revised new edition with Wiley Blackwell.