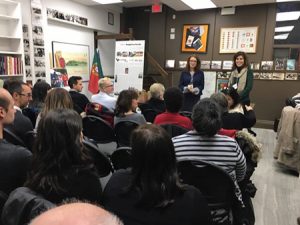 Community Conversations, a new initiative in the Faculty of Liberal Arts & Professional Studies within the Global and Community Engagement portfolio, is designed to encourage stimulating, inspiring and inclusive dialogue among different communities on local and global issues that matter most to them.
Held on Nov. 25, the first conversation in the series was titled "Youth, Higher Education and Community Engagement in the Portuguese Community." Lusophone members of the Portuguese, Brazilian and Angolan communities gathered for the event hosted by the Gallery of the Portuguese Pioneers, with the assistance of the Working Women Community Center (WWCC) and the Portuguese Canadian Walk of Fame. All these institutions are partners of York University's Portuguese & Luso-Brazilian Studies Program, whose faculty members spearheaded the event.
Read the complete YFile story here.