Día de Muertos
Día de Muertos (Day of the Dead) is an ancient Mexican tradition, usually observed on November 1, which honours the deceased in cheerful celebration. Typically, family and friends gather to remember those who have died in order to help support their spiritual journey. This holiday has been recognized as an example of intangible cultural heritage by the United Nations Educational, Scientific & Cultural Organization.
Assembling the Altar or Ofrenda (Offering) is an important part of this celebration and each element has significance:
Arco: Made of reeds and flowers, the arch symbolizes the abandonment of the earthly body and the purifying passage toward spiritual life.
Aromas:  Aromatics such as incense represent the cleansing and purification of the space and the soul.
Calaveras de Dulce:  Sugar skulls are made in recognition of the dead sometimes with individual names written in colourful icing.
Comida: Sweet or favourite foods of the deceased are left for their souls to savour.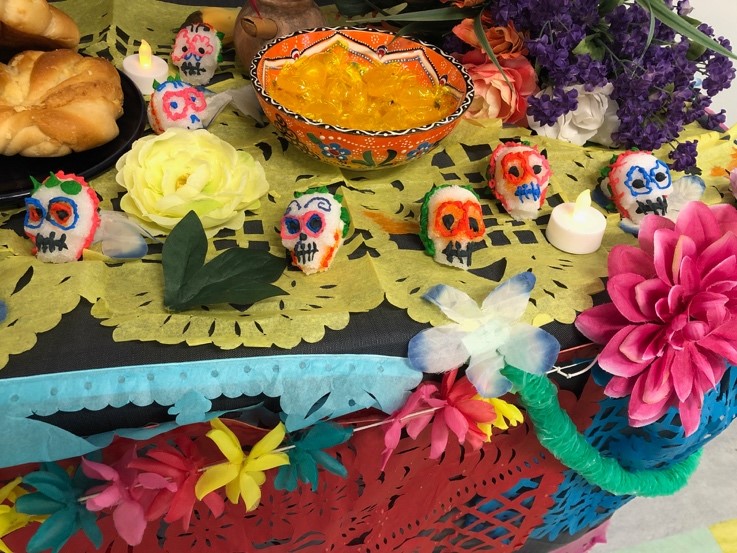 Flores: Flowers represent the sun's radiance as the origin of all life.
Fuego: Fire in the form of candles provides a guiding light to help souls return to the world of the dead.
Papel Picado: Delicately cut tissue paper, a Mexican handicraft, cheerfully decorates the altar and its movement recognizes the strength and importance of the wind.
Retrato: Portraits of the deceased are included as a way to remember those who have passed.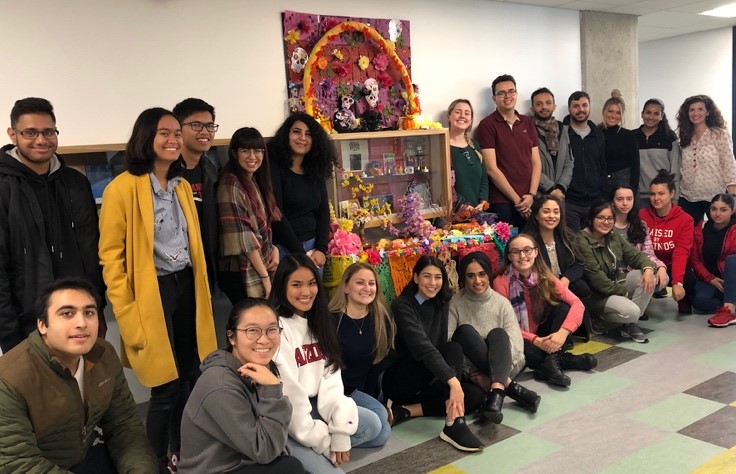 On October 28, 2019, an Ofrenda was assembled by the Spanish Program, led by Professor Shanna Lino and her students in Spanish 3000, in order to mark the launch of the Department of Languages, Literatures & Linguistics (DLLL) World Cultures Celebrations initiative, highlighting cultural diversity and significant holidays around the world. Those who wish to visit the altar beside the main office of the DLLL may do so during business hours from October 28 to November 4, 2019.